Get Same Day Tax Debt Help in Mt. Pleasant, MI.
Our professional tax attorneys are dedicated to helping Michigan residents and business owners resolve their tax problems.
Mt. Pleasant's Dedicated Tax Resolution Professionals
College towns are unique and vibrant places to be, ebbing and flowing with the change of seasons and students. But they also come with their share of unique tax challenges, from adjunct educators and support staff juggling multiple 1099s to businesses trying to make sure they classify student workers correctly for their payroll taxes. In this environment, it's frighteningly easy to get behind on your tax returns and start racking up insurmountable debt.
At Lothamer Tax Resolution, we are dedicated to getting you the unpaid tax debt help you deserve, fighting for the best possible outcome for your financial situation. Our unpaid tax debt attorneys and CPAs understand that taxes are complicated and that failing to pay back debt can have serious consequences. So no matter what brought you to your current situation, we make it easy to turn the tide and get you back on track.
Contact our Mt. Pleasant Location
Michigan's Tax Relief Partner
We know that dealing with taxes can be confusing and stressful, Our offer in compromise lawyers and CPAs ensure that our clients are informed about their options at every step. We have experience helping people handle everything from IRS audits to wage garnishments, tens of thousands of dollars in back taxes to years of unfiled tax returns, and more. We take a personalized approach to resolving every client's needs—and we're here for you when you need us most!
We know that you don't have an entire semester to wait for the IRS or State of Michigan tax authorities to stop collection actions against you. That's why our IRS tax debt lawyers take immediate action, calling them directly within 24 hours to take full control of the situation. Then, we get to work on your optimized Roadmap to Resolution, complete with ongoing support for long-term financial health.
Local Enrolled Agents, CPAs, and Tax Attorneys
Choosing a local tax resolution service can help taxpayers in Mt. Pleasant find financial freedom with a personal touch. At Lothamer, we have a comprehensive understanding of both Michigan tax law and federal tax law.
Request a Stay on Your IRS Collections TODAY. We're Ready to Take Immediate Action.
Top Tax Problems We Solve
We're dedicated to finding a tax resolution that works for you
There are just about as many reasons for getting behind on your tax returns as there are seats in Kelly/Shorts Stadium. But no matter your reason or current financial situation, we can help with an IRS tax debt resolution. We'll let you know what steps are best for getting back tax relief and getting on with your life.
Navigate the pitfalls of an IRS audit with professional representation
We have a proven record of success in dealing with the IRS, and our team is ready to help you control the scope and duration of an IRS audit. A tax debt attorney or CPA will manage all correspondence and meet with the IRS on your behalf to fight for the best back tax forgiveness.
Seek the most effective tax debt relief in Michigan
Whether you're already struggling to make ends meet under harsh penalties or are worried that a wage garnishment or asset seizure is coming soon, getting professional help is crucial. A CPA or tax attorney qualified as an Enrolled Agent can fight to turn the odds in your favor.
Tax Liens and Asset Seizures
If you've had property seized for unpaid taxes, you need a tax professional
If you have seriously delinquent tax debt, your property and livelihood are at risk. Whether you've been notified of an impending tax lien, or are worried about future asset seizures, levies, or garnishments, let Lothamer do the heavy lifting to resolve the issue.

Why Mt. Pleasant Trusts Lothamer's Tax Audit Lawyers, CPAs, & Enrolled Agents
Using Lothamer Tax Resolution was one of the best decisions our company made. They have saved us time, many headaches and hours of worry, not to mention money. Everyone is friendly and helpful, but even more importantly they are very knowledgeable about taxes and how to navigate the federal and state tax systems. I would highly recommend Lothamer to anyone needing tax help.
Awesome experience. I was extremely stressed out due to some issues I had with backed taxes. I felt instant relief after my first my first consultation with Jesse. The whole team was very kind and very comforting in my experience. My life is on a way better track since working with Lothamer.
I was stressed out, overwhelmed, didn't know where to go, or what to do about my large debt to the IRS. From my first call to Lothamer all the way to my case being completed, I was never judged and the staff made me feel like the situation is fixable, and the results they got me were better than I ever expected!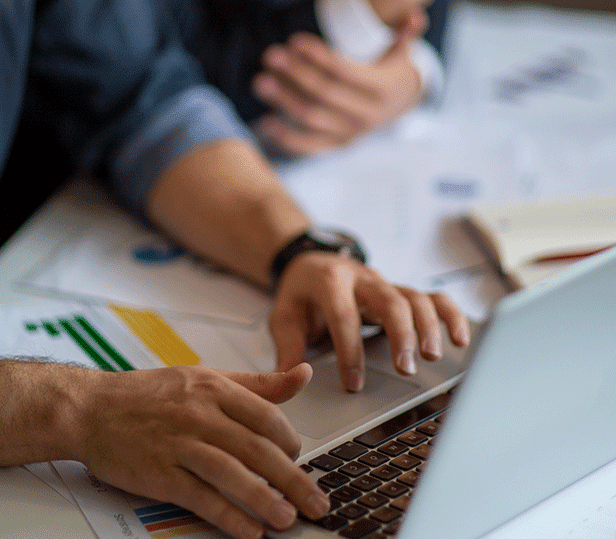 How We Use People + Technology to Set You Free