Trusted Tax Attorneys & PRI Representation in Lansing, MI
Don't fight alone—let our outstanding combination of People + Technology guide you through tax issues.
Dedicated Tax Attorneys in Lansing, MI
Here in Michigan's capital, tax problems hit particularly close to home. Each day that goes by, you're trying to juggle the demands of family and work and lead a fulfilling life while your tax debt looms large at the Department of Treasury. The risk of continuing to leave your tax problem unresolved is too large. As the IRS and state tax authorities increase scrutiny, your hard-earned paycheck, home, and even your family's financial security are at risk.
At Lothamer Tax Resolution, we are a team of unpaid tax debt attorneys and CPAs who help clients resolve their state and federal tax issues, no matter how complex. Our mission is to provide all residents of Lansing with the expertise they need to get back on track and get on with their lives. We understand how stressful it can be when you're behind on your tax returns or have thousands of dollars of back taxes on your hands—and we're here to help Set You Free.
Contact Our Attorneys in Lansing, MI.
Solving Tax Problems for Businesses & Individuals in Lansing, MI
Lothamer Tax Resolution is committed to providing our clients expert advice and service. We are dedicated to guiding you through the tax process in a way tailored to your unique financial situations and goals. As Enrolled Agents, our experienced tax attorneys and CPAs in Lansing, MI, will work with you to create an individualized strategy for your tax situation so that you can rest easy knowing that we're doing everything possible on your behalf.
We're dedicated to acting fast, going the extra mile to stop collection actions against you as soon as possible. Within 24 hours, we'll call the IRS to request a stay on collections and your full IRS transcripts. Within days, we're using our advanced technology to analyze the most likely to-succeed Roadmap to Resolution.
Enrolled Agents, CPAs, and Tax Attorneys That Work for You
Taxpayers in Lansing deserve tax experts in Lansing. We're uniquely positioned to help you deal with both State of Michigan tax authorities and the IRS, whether we're negotiating an Offer in Compromise or responding quickly to tax liens and asset seizures.
Request a Stay on Your IRS Collections TODAY. We're Ready to Take Immediate Action.
Top Tax Problems We Solve
Whether you're behind a year or a lifetime, we've got you covered
Don't put off getting current on your tax returns because you're afraid of the financial repercussions—the consequences of ignoring them are worse. Your tax debt attorney or CPA will identify the best action to get your returns filed. We'll look at your situation and options and then work towards a manageable, favorable resolution, giving you the unpaid tax debt help you need.
Get control of an audit situation or prevent one altogether
If you're facing an audit, you want the services of Lothamer Tax Resolution. We can manage all correspondence with the IRS on your behalf and meet with them face-to-face to fight for the best possible outcome. If you're afraid you may be audited in the future, we can find out what the IRS knows and change course before it's too late.
The first step to financial freedom starts here
The IRS possesses significant authority as a collection agency. If you have outstanding taxes exceeding $25,000 that you cannot pay, they can seize your assets, such as your home, business, or wages. It can make a significant difference in whether you retain or forfeit your property to have a qualified tax expert supporting you.
Tax Liens and Asset Seizures
If you've had property seized for unpaid taxes, you need a tax professional
Your property and livelihood are at risk if you have seriously delinquent tax debt. Whether you've been notified of an impending tax lien, or are worried about future asset seizures, levies, or garnishments, let Lothamer do the heavy lifting to resolve the issue.

Why Lansing Trusts Lothamer's Tax Audit Lawyers, CPAs, & Enrolled Agents
Lothamer has been instrumental in the process of relieving me from my tax burden with the IRS.. Not only were they able to help with my back taxes but they also helped with state taxes and helped me build a proper foundation for my business so I can be legal and continue to pay taxes legally and efficiently. I highly recommend them to anyone who has tax debt and needs a hand navigating the complex and confusing tax system. They will help you!
Awesome experience. I was extremely stressed out due to some issues I had with backed taxes. I felt instant relief after my first consultation with Jesse. The whole team was very kind and very comforting in my experience. My life is on a way better track since working with Lothamer.
From my initial consultation with Jesse Lothamer I knew I was dealing with a highly professional, well organized and competent organization. My case manager is a bright, cordial, and knows the IRS inside and out, efficient, and effective. I am continuing with Lothamer because I want the best to represent me. I see no way to improve upon an already wonderful organization.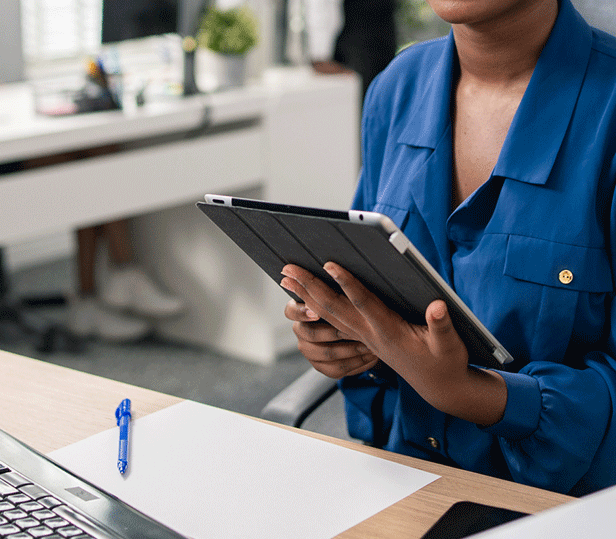 How We Use People + Technology to Set You Free